Star Collector: Greenland Fjords, Canadian Maritimes
on Star Pride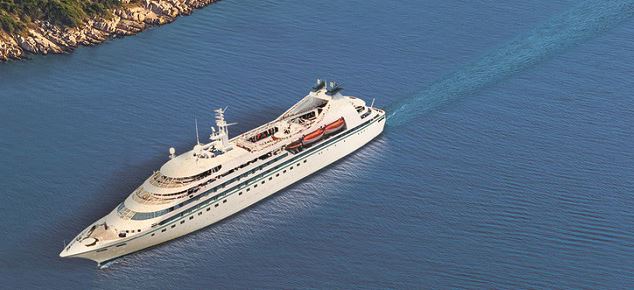 Venture into the lesser-known coastlines and communities of Greenland, Canada and New England during this remarkable 25-day cruise crossing the North Atlantic. Admire fractured glaciers, ivory ice fields and drifting ice floes on a day of scenic cruising in Greenland's remote and picturesque Prince Christian Sound. Sample grilled wolf fish, dried salted cod and tender musk ox meat amid stacked crab pots, fish-drying racks and brightly painted houses in Qaqortoq, Nanortalik and Narsaq in Greenland. Wander the grounds of a 1,000-year-old Norse settlement near St. Anthony, and tour sod buildings identical to those that sheltered early settlers from harsh Newfoundland winters centuries ago. Walk among weathered French and British artillery artifacts at National Battlefields Park, or sip your way through Quebec City's outstanding microbreweries on a delicious walking tour in a thriving downtown community. Settle back in a horse-drawn carriage as you trace the famous Carriage Trails of Acadia near Bar Harbor, Maine.

THE WORLD'S BEST SMALL SHIP CRUISE LINE
NO ONE ELSE GOES SO FAR TO GET TRAVELERS SO CLOSE …
You're closer to secluded coves, tiny villages, misty fjords. To ancient ruins, medieval alleyways, quaint marinas. To unspoiled beaches, unfamiliar cultures, undiscovered atolls. To enlivening your curiosity and awakening your sense of wonder. You're closer than ever to the kind of authentic and unforgettable experiences that you travel to find in the first
...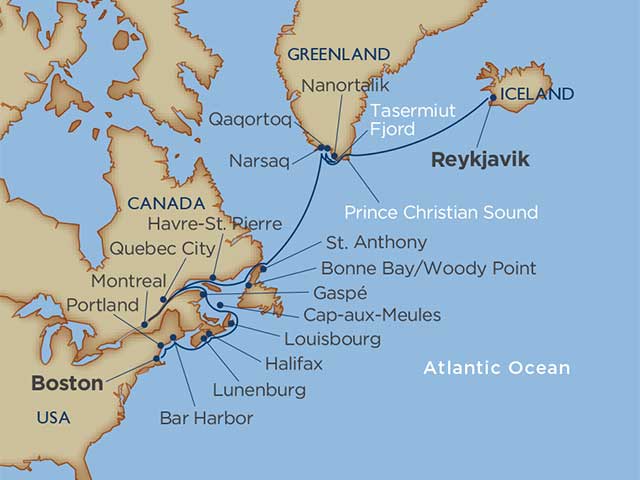 | Day | Port | Arrive | Depart |
| --- | --- | --- | --- |
| 1 | Reykjavik | | 5:00 PM |
| 2 | At Sea | | |
| 3 | At Sea | | |
| 4 | Prince Christian Sound | 7:00 AM | 5:00 PM |
| 5 | Qaqortoq | 8:00 AM | 10:00 PM |
| 6 | Tasermiut Fjord Scenic Cruising | 3:00 PM | 7:00 PM |
| 6 | Nanortalik | 7:00 AM | 2:00 PM |
| 7 | Narsaq | 8:00 AM | 4:00 PM |
| 8 | At Sea | | |
| 9 | At Sea | | |
| 10 | St. Anthony | 7:00 AM | 3:00 PM |
| 11 | Bonne Bay / Woody Point | 10:00 AM | 4:00 PM |
| 12 | Havre | | 8:00 PM |
| 13 | At Sea | | |
| 14 | Quebec City | 8:00 AM | 4:00 PM |
| 15 | Montreal | 8:00 AM | 6:00 PM |
| 16 | Quebec City | 9:00 AM | |
| 17 | Quebec City | | 6:00 PM |
| 18 | At Sea | | |
| 19 | Gaspe | 7:00 AM | 2:00 PM |
| 20 | Cap aux Meules | 11:00 AM | 6:00 PM |
| 21 | Louisbourg | 8:00 AM | 5:00 PM |
| 22 | Halifax | 9:00 AM | 11:00 PM |
| 23 | Lunenburg | 8:00 AM | 2:00 PM |
| 24 | Bar Harbor | 9:00 AM | 6:00 PM |
| 25 | Portland | 8:00 AM | 6:00 PM |
| 26 | Boston | 7:00 AM | |